No 10 says US administration has offered assurances after British intelligence officials dismissed claims as 'utterly ridiculous'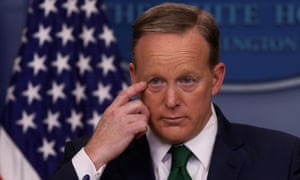 The White House has scrambled to limit the damage to transatlantic relations caused when White House spokesman, Sean Spicer, repeated an unsubstantiated claim that British intelligence had spied on Donald Trump.
But there was no apology from the Trump administration, which said only that the circumstances in which Spicer made the allegation at a White House briefing had been "explained" to British officials.
The US national security adviser, HR McMaster, phoned his opposite number in the UK, Mark Lyall Grant, and Spicer spoke to the British ambassador in Washington, Kim Darroch, at a St Patrick's Day event on Thursday.
"Ambassador Kim Darroch and Sir Mark Lyall expressed their concerns to Sean Spicer and Gen McMaster," a White House spokesman said. "Mr Spicer and Gen McMaster explained that Mr Spicer was simply pointing to public reports, not endorsing any specific story."
However, a Downing Street spokesman said British officials had been assured Spicer would not repeat the British spying claims again. The British embassy described the conversation between Darroch and Spicer as "private".
The flurry of transatlantic damage-limitation is the latest wave of fallout from the president's early morning tweet on 4 March, claiming Barack Obama had wiretapped his phones.
The claim has been rejected by the Obama administration's intelligence chief, James Clapper, and by leading Republicans and Democrats in Congress. But Trump, and his spokesman, have persevered with the allegation.
On Thursday, Spicer read from a series of press reports that he claimed supported the wiretapping allegation. In doing so, he read out verbatim a claim by Fox News analyst Andrew Napolitano that three intelligence sources had confirmed to him the Obama administration used GCHQ to spy on Trump so there would be "no American fingerprints on this".
The claim drew a rare outspoken response from the normally taciturn UK electronic intelligence agency, GCHQ, who dismissed it as "utterly ridiculous".
The allegation was also rejected by the British government.
"I don't want to get into private conversations, but we've made clear to the administration that these claims are ridiculous and should be ignored," a Downing Street spokesman said. "We've received assurances these allegations won't be repeated. We have a close relationship which allows us to raise concerns when they arise, as was true in this case. This shows the administration doesn't give the allegations any credence."
Asked whether Spicer had been told not to repeat the claims, the spokesman said: "Indeed."
Although Clapper denied that Trump or his campaign had been wiretapped, it has been reported that some Trump associates, and former campaign members, had been under investigation for their contacts with Moscow. The first Trump national security adviser, Michael Flynn, was forced to resign, after failing to accurately describe his contacts with the Russian ambassador in Washington.
The FBI director, James Comey, has not responded to deadlines set down by senior senators to confirm or deny whether there is an investigation into possible collusion between the Trump campaign and Moscow. He is due to appear before the House intelligence committee on Monday.
Sir Malcolm Rifkind, the former chair of parliament's intelligence and security committee, demanded the White House withdraw the allegations and not merely say they would not be repeated. He said Spicer never had evidence for the allegations and made them only because he was desperate to justify Trump's claim.
He told BBC radio: "That's just foolish and very dangerous stuff and President Trump better get a grip not only on his own press officer but on the kind of encouragement being given in the White House that makes a press officer make these stupid allegations in the first place.
"You don't just quote from a Fox News report if you are the president's official spokesman unless you have taken the trouble to find out if that report is justified."
Tim Farron, leader of the Liberal Democrats, described Spicer's repetition of the claims as "shameful" and said Trump was "compromising the vital UK-US security relationship to try to cover his own embarrassment".
Spicer had quoted Napolitano's allegations in an effort to validate Trump's unfounded claim that Obama tapped his phones last year. The US president accused his predecessor of tapping his phones in a series of tweets in early March, describing Obama as a "bad (or sick) guy".
On Thursday, the Republican and Democratic leaders of the Senate intelligence committee joined their counterparts on the House intelligence committee in concluding they had seen no evidence to support the president's accusation.
British and American intelligence agencies cooperate closely. Along with their counterparts from Australia, New Zealand and Canada, they are members of the Five Eyes, which work together on intelligence.
The prime minister's spokesman said: "I would add, just as a matter of fact, with the Five Eyes pact, we cannot use each other's capabilities to circumvent laws. It's a situation that simply wouldn't arise."