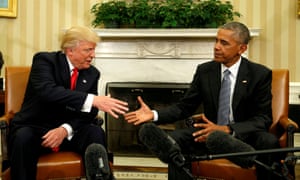 Sean Spicer asks 'whether executive powers were abused in 2016', as former national intelligence director say he 'can deny' existence of surveillance order
The White House asked Congress on Sunday to investigate Donald Trump's allegation, presented without evidence the day before, that Barack Obama ordered illegal wiretapping of Trump Tower during the 2016 presidential election.
On Saturday, a spokesman for Obama said the former president had not ordered any such surveillance. On Sunday a former director of national intelligence, James Clapper, went further, denying the existence of any surveillance order at Trump Tower.
In his demand for an investigation, White House press secretary Sean Spicer did not provide any evidence for the president's claims, but said reports about "potentially politically motivated investigations" were "very troubling".
He did not specify what reports were in question, though late last week rightwing radio and news sites, including the website recently run by the president's chief strategist, circulated the idea that Obama had tried to undermine the Trump campaign.
In a statement, Spicer said the president had asked congressional intelligence committees to "exercise their oversight authority to determine whether executive branch investigative powers were abused in 2016".
Congress is already investigating Russian interference in the election, and American intelligence agencies have concluded that hackers acting on behalf of the Kremlin broke into Democratic party servers in support of Trump.
"Neither the White House nor the president will comment further until such oversight is conducted," Spicer concluded.
Within an hour, Clapper appeared on NBC's Meet the Press and denied the existence of any wiretap operation at Trump Tower. "For the part of the national security apparatus that I oversaw as DNI," Clapper said, "there was no such wiretap activity mounted against the president-elect at the time, or as a candidate or against his campaign."
Host Chuck Todd then asked whether as director of national intelligence he would know about any federal court order authorizing an FBI surveillance operation.
"You would be told this?" Todd asked.
"I would know that," Clapper replied. "Something like this absolutely."
"And at this point you can't confirm or deny whether that exists?"
"I can deny it," he said.
"There is no Fisa court order?" Todd pressed, alluding to the Foreign Intelligence Surveillance Act (Fisa) court, which approves sensitive surveillance requests. "Of anything at Trump Tower?"
"Not to my knowledge," Clapper said. "No."
On Saturday, Kevin Lewis, a spokesman for Obama, did not deny that the FBI might be surveilling Trump associates but denied that the Obama White House played any role in such decisions.
"Neither President Obama nor any White House official ever ordered surveillance on any US citizen," Lewis said. "Any suggestion otherwise is simply false."
A surveillance operation would have required a warrant from a federal judge who had been convinced investigators had probable cause of a serious crime or that a targeted person was working for a foreign power.
For months, outlets such as the Guardian, the BBC, the New York Times and the Washington Post have reported on requests for such a warrant and a larger investigation into possible links between Russian officials and Trump associates.
Former national security adviser Michael Flynn was forced to resign last month, after it was discovered he had misled Vice-president Mike Pence about his conversations with the Russian ambassador.
Last week, attorney general Jeff Sessions recused himself from the investigation after it was found that, while under oath before the Senate, he had not disclosed meetings with that ambassador.
Despite Spicer's pledge that the White House would not comment, deputy press secretary Sarah Huckabee Sanders appeared on the ABC program This Week. She would not say if Trump had based his accusation on an intelligence briefing, a news report or something else.
"I think he is going off of information that he's seeing that led him to believe that this is a very real potential," Huckabee Sanders said. "I would say his tweet speaks for itself."
Spicer's deputy justified the request for an investigation by saying it should be included in the larger inquiry. "If they're going to investigate Russia ties, let's include this as part of it," she said. "Let's find out."
The spokeswoman said merely "the potential of this having had happened" merited investigation, and argued: "If this happened, if this is accurate, this is the biggest overreach and the biggest scandal."
But she did not say the investigation merited a special prosecutor, independent of either party. "I don't think we're there yet," she said.
Also on Sunday, the Republican Florida senator Marco Rubio, a member of the Senate intelligence committee, told CNN's State of the Union he did not know from where the president had drawn his accusations.
"Perhaps the president has information that's not available to us or the public," Rubio said. "He'll have to explain what he meant by it."
The Senate intelligence committee is compiling information for a public report "based on the facts that will let people reach judgment based on the facts", Rubio said. People should reserve that judgment, he said, for instance regarding Sessions' meetings with the Russian ambassador, Sergey Kislyak.
"I literally meet with dozens of ambassadors," he said, "and so do most senators, especially those who sit on committees that deal with foreign affairs."
He noted that ambassadors, by trade, make contacts with government officials and that embassies in Washington often have "some intelligence component" within them. "It is not a mystery to anyone, and I'm not talking about [Kislyak] particularly," Rubio said.
The president had a more staunch defender in the Arkansas Republican Tom Cotton, who told Fox News Sunday the media was to blame for reports about surveillance.
"It doesn't mean that none of these things have happened, just means I haven't seen them yet," the senator said. "I would prefer to deal with facts."
In contrast, the Nebraska Republican senator Ben Sasse, a frequent critic of Trump, called for the president to explain what he was talking about and his sources of information.
"We are in the midst of a civilization-warping crisis of public trust, and the president's allegations today demand the thorough and dispassionate attention of serious patriots," Sasse said in a statement.
"A quest for the full truth, rather than knee-jerk partisanship, must be our guide if we are going to rebuild civic trust and health."
Rubio could not provide a deadline for the investigation. "I know it's frustrating," he said. "We all want it to be available tomorrow."