Democrats issue 'prebuttal' saying president's actions will desert the working people he purports to favor as Trump prepares to lay out his economic vision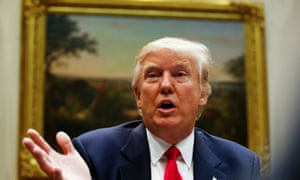 Donald Trump will present his economic vision during his first joint address to Congress on Tuesday evening, a speech which is expected to solidify the populist agenda that helped sweep him to victory in November.
"All I can do is speak from the heart and say what I want to do," Trump said, in a pre-taped interview with Fox & Friends on Tuesday morning.
The speech to Congress follows a dizzying first 40 days in office, that have included a public spat over the size of his inaugural crowd, sustained and widespread protests against his presidency, a hasty rollout of his travel ban that caused chaos at airports and was later blocked by courts, diplomatic flare-ups with Mexico, Australia, Sweden and France, the resignation of his national security adviser and renewed questions about his administration's ties to Russia.
A White House official said on Monday that Trump will discuss his plans to reform healthcare, grow the military and strengthen border security. The official said the president drew inspiration for his address from conversations he has had with "healthcare industry leaders, law enforcement officials, coalminers, other union representatives and frontline workers".
Trump is also expected to take credit for swiftly acting on a string of pledges he made to supporters during the campaign.
As of Monday evening, the official said Trump was still working on his speech. In an email to supporters on Monday morning, Trump asked for their input on what he should discuss, requesting that all responses be sent by 10am ET on Tuesday.
The Democratic congressional leaders delivered a "prebuttal" to Trump, casting his early weeks in office as unsuccessful and chaotic. They denounced the president's actions on immigration, healthcare and taxes, and said they could not envision working with him on any issue.

"If past is prologue, the president will use populist rhetoric in his speech, but he won't back it up with real actions," the Senate minority leader, Chuck Schumer, said on Monday at the National Press Club.
"He'll talk like he favors working people, but his actions will desert them. He'll present himself as a populist, but govern from the hard right."
Nancy Pelosi, who joined Schumer at the National Press Club, said Democrats are steeled for a four-year battle against Trump's "reckless agenda and incompetent judgment".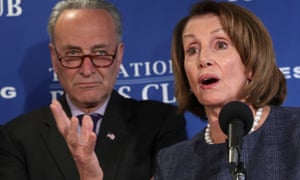 Inside the historic House chamber on Tuesday night, Trump will deliver his address from behind the speaker's dais to members of the House and Senate, his cabinet and the supreme court justices.
First lady Melania Trump will be seated with the widow of the late supreme court justice Antonin Scalia and the family members of three people killed by immigrants who had been in the US illegally.
In direct contrast to the first lady's guests, several Democrats have used their spare tickets to invite immigrants affected by Trump's border security crackdown, foreign citizens ensnared in his travel ban and Americans dependent on the healthcare law he has vowed to repeal.
At least a dozen Democrats are bringing Dreamers, young people who were brought to the country illegally as children.
The Illinois senator Dick Durbin, the ranking member of the Senate immigration subcommittee and a longtime immigration reform advocate, will bring Aaima Sayed, a Muslim Dreamer who was brought to the US from Pakistan when she three years old.
Thousands of immigrants like Sayed have temporary legal status under the Deferred Action for Childhood Arrivals program (Daca), which Trump vowed to repeal during the campaign. He later expressed sympathy for Dreamers and they appear to be exempt from deportation under the administration's immigration crackdown. However, Democrats and immigration rights groups do not trust the president to keep his word.
The Democrats' efforts are being led by the Rhode Island congressman Jim Langevin who said he wanted to put a human face on Trump's policies, which have inspired protests at airports and in town halls across the country. Langevin will bring Ehsun Mirza, a Muslim American critical care doctor originally from Pakistan.
"I hope that his presence on February 28th will serve as a reminder to the President that true Americans come in every color and creed – and not all are born here," Langevin said in a statement.
Other Democratic guests will include Sara Yarjani, an Iranian graduate student who was detained for 23 hours at Los Angeles international airport under the ban that had gone into effect hours before her arrival. Yarjani, who will be a guest of California representative Judy Chu, was sent back to Vienna, Austria, where she had been visiting family and was allowed to return only after a federal judge granted a temporary reprieve of the order.
In a show of party unity, Representative Keith Ellison on Monday announced that he would bring the DNC chairman, Tom Perez, as his guest to the address. Perez narrowly defeated Ellison to be chairman of the DNC on Saturday after a months-long contest to lead the still-divided party.
Democrats will respond to the speech with remarks in English by the former Kentucky governor Steven Beshear, who lowered insurance rates in his state with the implementation of the Affordable Care Act, and in Spanish by Astrid Silva, an immigration activist and Dreamer from Nevada.