Former labor secretary and progressive congressman call for unity against Trump after party race that became symbol of centrist-progressive divisions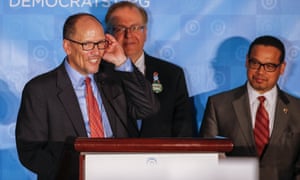 The former labor secretary Tom Perez is the new chairman of the Democratic National Committee (DNC) after a fiercely fought four-month campaign.
His victory in Atlanta on Saturday saw him make history as the first Latino to lead the party but left progressives who backed his main opponent, US representative Keith Ellison, disappointed.
Perez won the chairmanship on a second ballot, after missing out by just one vote in the first round of voting.
The threshold for victory in the second round was 218 votes, out of 435 voters. Perez gained 235 to 200 for Ellison. After announcing the result, acting chair Donna Brazile presented the gavel to Perez. He presented a motion to name Ellison as deputy chair, which passed unopposed.
Both men used their remarks after the vote to appeal for party unity, the race for DNC chair having become a symbol of divisions that opened during the 2016 presidential primary between Hillary Clinton and Bernie Sanders. Progressive activists said the outcome would be indicative of their standing within the party.
Perez, who served in the Obama administration and was considered as running mate for Clinton, was viewed with suspicion by activists and groups who believe he represented the so-called establishment. Ellison, the first Muslim member of Congress, is a longtime activist for grassroots causes.
Speaking after Perez's win, Ellison said: "If we waste even a moment going at it over who supported who", Democrats would be letting down the American people in their need to "confront Trump and beyond that".
"We've got earnest, sincere work to do under Chairman Perez," he added, "and all of us and all of you are going to help him."
Perez spoke after Ellison and made similar appeals while thanking his supporters and the other candidates.
"I really want to apologise to the media because we did talk about issues," he said, like Ellison heralding they said was free of partisan rancor. "We didn't do any of the other stuff, and that's what the Democratic party is about."
Perez said Democrats were "suffering from a crisis of confidence, a crisis of relevance", but promised to take the fight to President Trump and to support Democrats against Republicans in elections nationwide.
When voting began, members voted by paper ballot and had two minutes to make their choice among the six candidates then still in the running. The count was excruciatingly close. Perez finished the first ballot with 213.5 votes, having needed 214.5 to win. Ellison won 200, taking the contest into a second round.
All of the candidates withdrew except for Ellison and Perez. Jehmu Greene, a former Fox News political consultant who earned half a vote, endorsed Perez. Peter Peckarsky, a Wisconsin attorney who earned no votes, endorsed Ellison.
In the frantic moments between the results and the distribution of the second ballots, the campaigns and their supporters spread across the convention center ballroom in a last-ditch attempt to sway members to their side. Perez waded into the crowd, smiling and shaking hands as he secured commitments.
Ellison's supporters wore green shirts that said "Keith for DNC" while Perez's sported blue "Team Tom" gear.
When the results of the second ballot were announced, cheering and chanting rang out simultaneously. Ellison's supporters stood on chairs, raising campaign signs that said "unite", and chanted: "Not big money, party for the people." Perez's supporters celebrated the moment.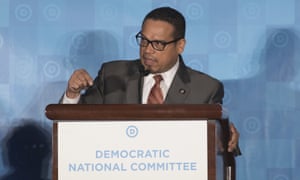 The mayor of South Bend, Indiana, Pete Buttigieg withdrew from the race before voting began and without endorsing a candidate, thereby unleashing at least a few dozen commitments late in the contest.
"We saw the potential of doing well on multiple ballots but we can do the math," Buttigieg said. "It is time for this process to move toward a solution that we can all get onboard with."
The popular, 35-year-old Rust Belt mayor and openly gay Afghanistan veteran left the race after a streak of national media attention and without angering either faction. He is widely believed to hold higher political ambitions, especially as a young member of a party in search of new talent.
"There's nothing wrong with our bench," Buttigieg said. "We just haven't called enough people on our bench off the bench and asked them to get out in the field."
After his victory, Perez said: "Mayor Pete is going to be the example of how Democrats win statewide in red states."
The winner inherits a party demoralized not just by its election defeat but by years of losses at local, state and national levels. A surge of activism by liberal groups in reaction to an unpopular Republican president, however, offers hope of new purpose.
As chair – a role that in equal parts demands the work of a tactician, a fundraiser and an opposition leader – Perez will need to immediately prepare for races in 2017 and the midterms in 2018. Part of the challenge will lie in healing the rift between centrists and progressives while developing a message to resonate beyond liberal enclaves.
Perez will also have to rebuild trust in an organization that was engulfed in controversy last year, after the publication of hacked emails that appeared to show committee staffers favoring Clinton over Sanders and led to the resignation as chair of Florida representative Debbie Wasserman Schultz.
The race to replace Wasserman Schultz attracted national attention and had all the trappings of a presidential campaign, with candidates embarking on bus tours and competing in televised debates.
The vote was ultimately decided, however, by 435 voting members of the DNC. That lead Buttigieg to compare it to a "high school student council race".