Chuck Schumer, Nancy Pelosi and other Democrats spoke on Thursday about accusations that the attorney general lied about meeting the Russian ambassador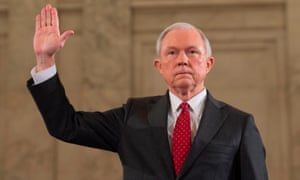 Jeff Sessions was facing mounting calls for his resignation as attorney general on Thursday amid claims that he "lied under oath" after it was disclosed that he twice spoke with the Russian ambassador to the United States during the presidential campaign last year, in apparent contradiction to his testimony to Congress.
The Senate minority leader, Chuck Schumer, told reporters: "It would be better for the country if he resigned," while Nancy Pelosi, the Democratic House minority leader went further, insisting Sessions "lied under oath during his confirmation hearing before the Senate" in January. "Perjury is a crime and there are consequences to it," she said.
While the senior Democrats spoke of resignation and possible perjury charges, Republicans were also beginning to break ranks – stopping short of resignation calls but agreeing that Sessions must step back and recuse himself from any involvement in the FBI's investigation into Russian interference in the 2016 US election.
Schumer said Sessions should also be investigated by the Department of Justice's inspector general to determine if his contacts with Russia have already compromised the inquiry.
"There cannot be even the scintilla of doubt about the impartiality and fairness of the attorney general, the top law enforcement official of the land," Schumer said, "because the Department of Justice should be above reproach, for the good of the country Attorney General Sessions should resign."
The furore over the latest connections between the Trump administration and Russia immediately plunged the administration back into crisis mode after 24 hours of favorable US media coverage for the president's joint address to Congress on Tuesday night.
The Washington Post first reported that Sessions met with the Russian ambassador, Sergey Kislyak – at the Republican National Convention in Cleveland, where Trump was confirmed as the presidential candidate, and then a second time, in September 2016 at his Senate office, while US intelligence officials were investigating Russian interference in the presidential election.
A spokeswoman for Sessions confirmed that the meetings took place, but provided a statement from the attorney general saying they were not related to the election campaign and insisted there was "nothing misleading" about his answer to Congress.
At Sessions' judiciary committee hearing on 10 January, he was asked by the Minnesota Democratic senator Al Franken what he would do if it was discovered that an official associated with the Trump campaign had communicated with the Russian government in the course of the 2016 election cycle.
"I'm not aware of any of those activities," Sessions replied. "I have been called a surrogate at a time or two in that campaign and I did not have communications with the Russians."
On Thursday, Franken called that remark "at best, extremely misleading" and said Sessions should clarify his remarks under oath to the judiciary committee.
Sessions on Thursday opened the possibility of recusal if the situation warranted it, he said. "I have said whenever it's appropriate, I will recuse myself," Sessions told NBC News. "There's no doubt about that."
He also said: "I have not met with any Russians at any time to discuss any political campaign and those remarks are unbelievable to me and are false and I don't have anything else to say about that, so thank you."
The House majority leader, Kevin McCarthy, a Republican from California, said on MSNBC's Morning Joe that Sessions must "clarify" his testimony to the judiciary committee. He then appeared to suggest that Sessions should recuse himself from an inquiry into Russia.
"The trust of the American people – you recuse yourself from these situations," McCarthy said. He added: "For any investigation going forward, you want to make sure everybody trusts the investigation."
McCarthy later walked back those comments. "I'm not calling on him to recuse himself … Attorney General Sessions said he would recuse himself going forward – appropriate, and that's all my answer was."
Representative Jason Chaffetz, the Utah Republican who leads the House oversight committee, and relentlessly investigated Hillary Clinton's emails, has been criticised for reluctance to investigate the Trump-Russia connection. But he said on Twitter on Thursday: "AG Sessions should clarify his testimony and recuse himself."
Representative Darrell Issa, a Republican from California, said: "We need an independent review by a credible third party and that Attorney General Sessions should recuse himself from any investigation into Russia." His statement added: "We need a clear-eyed view of what Russia actually did so that all Americans can have faith in our instructions."
The FBI is conducting an investigation into Russia's interference in the US election, and any alleged links between associates of Trump and the Russian government. The House and Senate intelligence committees are each conducting separate inquiries into the matter.
Ali Soufan, a retired FBI counter-terrorism special agent, said it was a "no-brainer" for Sessions to recuse himself from any FBI investigation of Trump's associates and Russia.
"Recusing himself is a must here. He comes up in this investigation, according to all the reporting in the press, and we have to conduct an independent and transparent investigation. If he is in any shape or form involved in this, the Trump team's contacts with Russia, he definitely cannot lead the investigation," Soufan said.
In the event of a recusal, Sessions "won't be in the chain of command" to the FBI on a Russia inquiry, nor will his aides "directly or indirectly", Soufan said.
Keith Ellison, the new deputy chair of the Democratic National Committee, himself a criminal defense lawyer, said: "Since it has now come to light that Attorney General Jeff Sessions lied under oath about meeting with Russian officials during the campaign, we must be entirely clear on one thing: perjury is a felony and may be punishable by prison for up to five years."
Recusals for attorney generals over conflicts of interest with FBI investigations have long precedents. Barack Obama's attorney general, Eric Holder, in 2013 recused himself from an FBI investigation into leaks, after he himself was interviewed for it the previous year. George W Bush's attorney general, Michael Mukasey, recused himself from a 2008 investigation into crooked financier Bernie Madoff because his son represented a Madoff associate.

Both the FBI and justice department possess deep institutional muscle memory for how attorney generals ought to separate themselves from investigations that pose conflicts, Soufan said.
Senator Dianne Feinstein, a Democrat from California and a ranking member of the Senate intelligence committee, said: "If the attorney general refuses to recuse himself, he should resign."
Senator Claire McCaskill, a Democrat from Missouri, cast doubt on Sessions's explanation that he met with the Russian ambassador in his capacity as a member of the armed services committee.
"I've been on the armed services [committee] for 10 years," she said on Twitter. "No call or meeting w/Russian ambassador. Ever. Ambassadors call members of [foreign relations committee]."
All 26 members of the committee were asked by the Washington Post whether they had met Kislyak last year. None of the 20 who replied, including committee chair John McCain, had done so, it reported.
Despite calls from within his own Republican party, House speaker Paul Ryan on Thursday said he did not see "any purpose or reason" for Sessions to recuse himself from an investigation unless he became the subject of the inquiry.