Judge does not promise to rule before ban takes effect at midnight on Thursday in suit filed by ACLU and other groups representing immigrants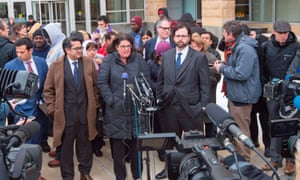 A federal judge in Maryland is considering a request by refugee organizations to halt Donald Trump's revised immigration ban before it takes effect at 12.01am Thursday.
Theodore Chuang, a US district court judge, on Wednesday sharply questioned attorneys for the American Civil Liberties Union (ACLU) and the National Immigration Law Center, who are pushing for the ban, as well as the government attorney defending it, but gave no indication on how he would rule or even if he would do so before Thursday morning.
Chuang, a former deputy general counsel for the Department of Homeland Security, seemed hesitant to interfere with what the administration is calling a national security issue, something courts have traditionally not done, but he did appear to mull the argument brought forth by the plaintiffs that Trump's executive order continues to be a ban on Muslims.
"The entire purpose of the executive order is to disfavor Muslims," ACLU attorney Omar Jadwat told Chuang. "The government is asking the court to turn a blind eye to what is obvious to everyone."
Jadwat also argued that Trump's repeated promises to ban Muslims during the election show the administration's intent to single out a religious group and should be taken into account when looking at the revised plan which, he said, is a thinly veiled attempt to keep Muslims from immigrating to the US.
The government's attorney, deputy solicitor general Jeffrey Wall, told the judge that Trump's campaign vows became irrelevant once he took the oath of office on 20 January. Trump, he said, has not used similar rhetoric as president.
Although after the first version of Trump's immigration order was signed the president said "this is not a Muslim ban", in an interview the day it was introduced he said that persecuted Christians should be given priority to enter the US, saying with reference to Syrian refugees: "If you were a Muslim you could come in, but if you were a Christian, it was almost impossible and the reason that was so unfair – everybody was persecuted, in all fairness – but they were chopping off the heads of everybody but more so the Christians. And I thought it was very, very unfair. So we are going to help them."
Trump's plan – a revision of that earlier executive order, which was blocked in federal court – keeps refugees from entering the US for 120 days and has a three-month suspension of visas to citizens of Yemen, Sudan, Syria, Libya, Somalia and Iran. Though the new order dropped Iraq from the list of countries and does not provide for religious preferences, opponents say it remains a Muslim ban cloaked in different language.
Two other challenges to the executive order will be heard in federal courts on Wednesday. At 3.30pm ET a judge in Honolulu will hear Hawaii's argument that the travel ban is really just a Muslim ban and will damage the state's essential tourism industry.
And another US district court judge, James Robart, who issued the initial order halting Trump's original travel ban, will consider a different request in Washington state to block this one as well.
The Maryland challenge was filed by the International Refugee Assistance Project and HIAS, who represent several refugees they say are in limbo by the ban or are in imminent danger because of the executive order. The plaintiffs are unnamed and were not in court because many are US citizens trying to bring in family members who are trapped in covered countries.
Attorneys told of an Iranian same-sex fiance of an American man who could be prosecuted or attacked if he is unable to leave that country as he expected.
"Many of the plaintiffs will die in the 90 days [that the order covers]," Becca Heller of the International Refugee Assistance Project said later, outside the court.