Temporary restraining order granted hours before new ban to come into effect
Plaintiffs argued curbs on six Muslim-majority countries were discriminatory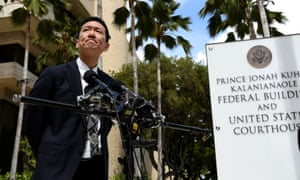 A federal judge in Hawaii has blocked Donald Trump's revised travel ban just hours before it was due to go into effect, marking another stinging blow to the administration.
Judge Derrick Watson, a district judge in Honolulu, issued a nationwide temporary restraining order against the travel ban, which targets visa applicants from six Muslim majority countries and temporarily suspends the US refugee resettlement.
Earlier in the day lawyers for the state of Hawaii had argued the revised order was unconstitutional and would do damage to the state's economy and educational and religious institutions.
The order comes a month after Trump's first order was blocked by a court in Washington state, prompting the administration to issue a new order last week.
More to follow …