Actor known for hits including James Cameron blockbusters dies after complications following heart surgery, according to statement from family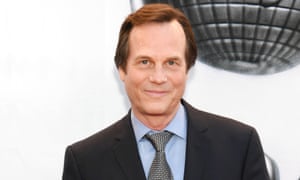 The actor Bill Paxton has died at the age of 61.
The star of films including Aliens, Titanic and Apollo 13 died after complications from heart surgery, according to a statement released by his family.
"It is with heavy hearts we share the news that Bill Paxton has passed away due to complications from surgery," the statement said.
"A loving husband and father, Bill began his career in Hollywood working on films in the art department and went on to have an illustrious career spanning four decades as a beloved and prolific actor and filmmaker.
"Bill's passion for the arts was felt by all who knew him, and his warmth and tireless energy were undeniable. We ask to please respect the family's wish for privacy as they mourn the loss of their adored husband and father."
As an eight-year-old, Paxton was in the crowd when John F Kennedy emerged from his hotel on the morning of his assassination. Photographs of him being lifted above the crowd are on display at a museum in Texas. He later narrated a documentary about the day for the National Geographic channel and produced the film Parkland, set during the president's final day. "I was probably about 20 feet in front of him," he said in an interview. "His hair was red and he was in a blue suit and he couldn't have been more charming."
The actor's first notable performance was in The Terminator in 1984 and was swiftly followed up with roles in Weird Science, Aliens and Near Dark. He developed a close working relationship with director James Cameron, also starring in True Lies and Titanic. "We're just good friends, and he's been incredibly loyal to me," Paxton said in a 1998 interview. "I guess I always fantasized about hooking up with a director and doing a series of films with him. You think of the great actor/director teams, like Scorsese and De Niro …"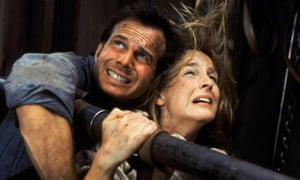 The actor starred in a number of other big hits in the 90s, including Twister, Apollo 13 and Tombstone. He was also known for his small screen work, scoring three Golden Globe nominations for his role in HBO's drama Big Love.
Paxton's directorial debut came in 2001 with the dark thriller Frailty which starred himself and Matthew McConaughey. He also directed Shia LaBeouf in the golfing drama The Greatest Game Ever Played in 2005.
Paxton was most recently seen in the CBS adaptation of the hit movie Training Day and films including Nightcrawler, Million Dollar Arm and Edge of Tomorrow. His final big-screen role will be in the thriller The Circle, alongside Emma Watson and Tom Hanks, who tweeted today to call Paxton "a wonderful man".
"I've had a career that is kind of under the radar, but it sure is varied, and I've been so blessed to be able to get paid to do something I love to do," Paxton once said.
Hollywood tributes have been pouring in on Twitter, including from Arnold Schwarzenegger, William Shatner and Elijah Wood.